Edit
: (5th February, 7:44 AM IST) Responnding to the growing unrest in nonsensical threats being made by certain communities, AIB has now removed the video. Here is the tweet mentioning this. It's a shame it had to come to this.
Hey everyone... pic.twitter.com/bBcnji3LBV

— All India Bakchod (@AllIndiaBakchod) February 4, 2015
Caution: This post is only meant for 18+ audiences and people who can really tolerate the filthy comments from their celebs.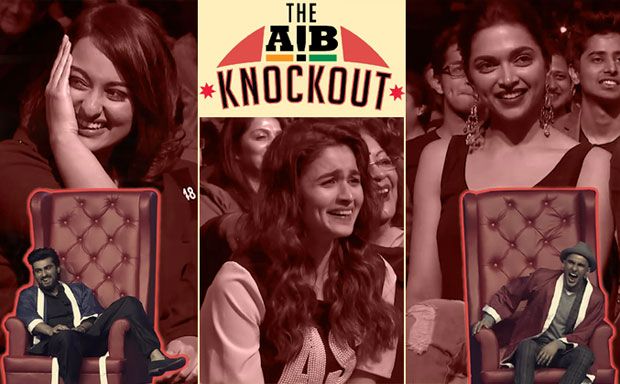 "Let the filth begin" is the tagline which appears at the starting of these most awaited video series on roasting some popular celebs. And the video - the video is overflowing with sarcastic humor on topics that will surely blow your head off.
AIB is comedy platform, a start-up by shit-faced (don't worry my tone is much casual than that used in video) comedians: Tanmay Bhatt, Gursimran Khamba, Ashish Shakya, Rohan Joshi and  Aditi Mittal. The knockout that went viral was roasting of Ranveer Singh and Arjun Kapoor, and the roasters included Karan Johar, Raghu Ram (a Chutiya from Roadies), film critic Rajeev Masand, Abish Matthew and the AIB team.
Aliya Bhatt, Deepika Padukone, Sonakshi Sinha, alongwith 4000 other attended this rude and downright offensive show. The cost for a single seat was around 4000 rupees and the team collected over 40 lakh, but all that was earned went for charity.
Some humiliating jokes that went off definitely kicked these two celebs' ass: "Arjun, you are so illiterate that the only IIM graduate you could play was Chetan Bhagat." "Arjun is dating Sonakshi. Oh I am sorry! Arjun is asked to keep off the carbs." "The last good thing Ranveer was in was Deepika Padukone" "Ranveer Singh, how does it feel to be the only sad person in the country everytime Virat Kohli scores a century?" Let's not waste your time reading when you could be laughing with your belly in your mouth. Alright, grab some popcorn, put a headphone (it's way too filthy out there) and prepare yourselves to get roasted: