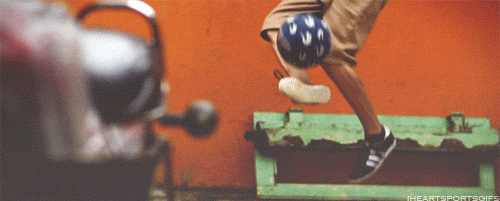 Freestyle football
, also known as freestyle soccer in North America has existed since the 1900's. It is the art of self-expression with a football, while performing various tricks with any part of the body.
But could you for a moment imagine your granddad with the ball??? What more should i say? Just watch the video, and see this magician do his tricks !!! The
Grandpa
in this video is the world famous French Freestyle football star
"Séan" Garnier
, who is in disguise. Most people can kick a football - some can play normally - but
Arnaud "Séan" Garnier
possesses the skills to make a football dance. Sean hails from Sens in France, and began his football career like any other boy who wanted to make it big, in the league . Unfortunately, he had a string of injuries, because of which he abandoned his dream, of a career as a professional footballer. But after a few years, Sean discovered a new passion that combined breakdancing, football and basketball skills, with some added acrobatics - which we know as freestyle football. Sean, who has admirers all over the globe, is the face of modern freestyle football, having won the
Red Bull freestyle championship
in 2008 and the
French Championship
thrice.