- by Rupsha Bose
Just when the new Government was breathing in the smoky air of economic tragedy, the one year old Sunanda Pushkar death controversy just jumped out of the blues to make things worse. The death controversy of ex-Union minister Shashi Tharoor's wife has set fire in the forest.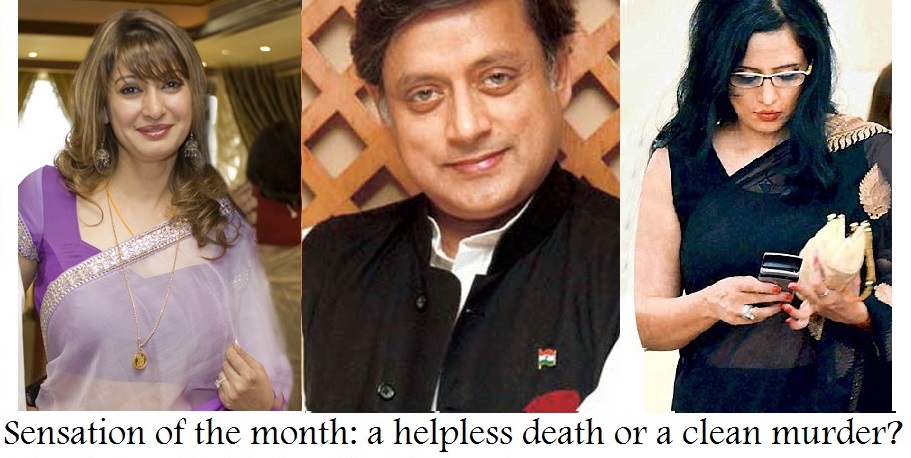 The complexity now hangs between a murder or a suicide. Evidences, witnesses and reports all fail to come into a conclusion. These facts hang things in thin air.
1. Sunanda Pushkar was totally upset with the way Shashi Tharoor showered attention on other women and looked at into their eyes. She suffered a feeling of inferiority as well as insecurity.
2. She had just come out of a toxic life and Shashi Tharoor was her third husband. The marks of depression still had effect over her fairy tale life.
3. It was hard for her to forget the glittering life of Dubai and manage the political air in India with Tharoor. She had started refused to conform to things around her.
4. Sunanda was utterly disturbed with Tharoor's friendship with Lahore based columnist Mehr Tarar. Tarar interviewed Tharoor and published an adulatory article comparing him to Sharukh Khan which upset Pushkar.
5. She claimed that Tarar nursed more than professional interest towards Tharoor and he had equal sentiments.
6. The ongoing twitter spat between Pushkar and Tarar had broken Pushkar till the roots. Senior journalist Nalini Singh was the last person Pushkar spoke to before her death who claimed that she was crying and was really disturbed.
7. Though Tharoor convinced Pushkar that he had finished all relations with Tarar but she was not convinced as he deleted messages from his Blackberry. She asked help from Nalini Singh to retrieve those messages.
8. The controversy took peak when Dr. Sudhir Gupta of AIIMS alleged that there was political pressure on him from Tharoor and Azad to change the autopsy report, but later he denied and changed his statement by saying that everything was based on norms of medicine.
9. The doubts on the reports again rose when the unexplained injection mark on Sunanda's body came to light. She had 15 injuries all over her body out of which one was of a teeth bite.
10. Tharoor refused to give any verdict as to why no FIR has been launched in this mysterious death case. CFSL claimed that it is drug poisoning and not enough to file an FIR.
11. But toxicology reports claimed that Sunanda's system had no trace of drugs and she took 2-3 tablets a day which was absolutely normal. The paradox between AIIMS findings and government laboratory is still unexplained.
12. Opposition party leaders have started questioning Congress as to why no complaint has been launched against Tharoor in his wife's mysterious death while Tharoor claims it to be a defaming campaign against him.
13. Controversy and complications exceeded the mark when Tharoor who was at first unhappy with the pace of the investigation, later said that Sunanda died due to health related issues and it is clear that there is no point on taking the investigation further.
14. The claim by Sudhir Gupta that the autopsy reported were altered due to political pressure and now this statement by Tharoor makes things interesting.
These conflicting evidences and statements make it complicated for authorities and teams to make out if it is a murder or sudden death. It may stay in a cold bag specially because it is a high profile case and has got ministers involved.