-by Subhendu Dutta
Well. Either you have loads of time to while away or just a few moments that you barely spare to yourselves in a day. Whatever the case, all you want is HUGE FUN. And YOUTUBE is the place.
Checkout the 10 DESI Youtube channels you must must checkout.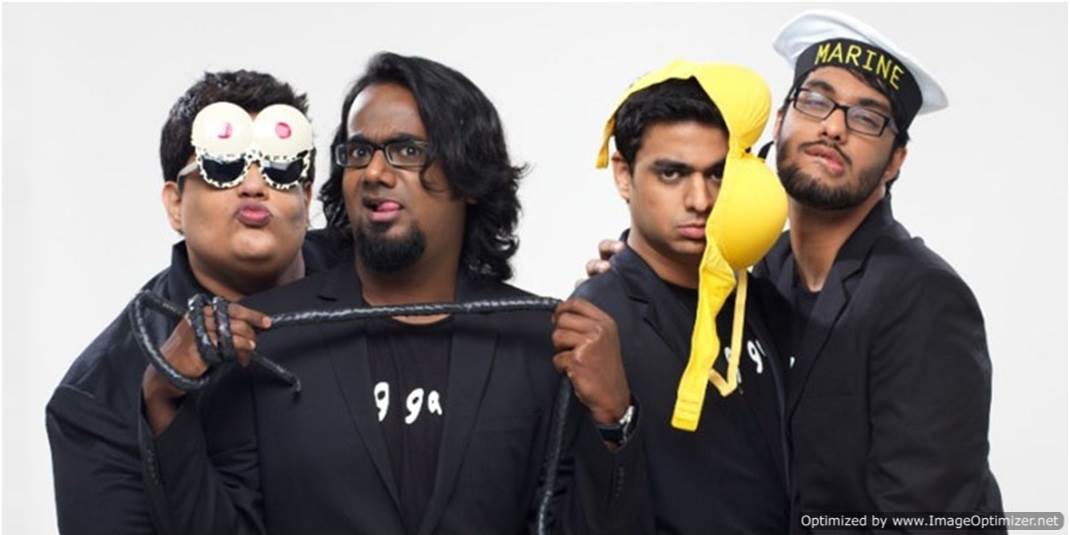 1. AIB (All India Bakchod)
Competing with TVF for the Online TV space with another big banner media group called AIB. Co-founded by comedians Gursimran Khamba and Tanmay Bhat, along with Rohan Joshi and Ashish Shakya, AIB believes in edgy, politically incorrect and several other other adjectives describing their humour. (basically the kind that your mother would frown upon) The 3 boys regularly perform stand up shows at auditoriums around the country. You can check out behind the scenes pictures, gig updates and other titbits on their facebook account.
RAWREAD Recommends : ALIA BHATT Genius of the Year.
2. The Viral Fever Videos
Knows widely by its acronym TVF. Founded by Arunabh Kumar, TVF is a one of India's largest Online TV and media groups, competing with the likes of AIB. With Close to a million subscribers, TVF churns out videos regularly covering genres like: Comedy, drama, Trends etc, and has a whole host of popular series like : TMO, Permanent Roommates. With celebrity guests and big sponsors expect this space to get bigger and better in the coming months.
3. Kanan Gill
What do you get when you take Chocolate boy and Funnyman Kanan Gill, pair him with IIT-ian Biswa, and ask them to review Yesteryear's Bollywood movies? You get a Laughathon! Aptly titled "Pretentious Movie Reviews", the duo inject some much needed dose of laughter into the tried and tested formula with their on screen antics, costumes and banter. Even publishing the Cut scenes and Bloopers for extra LOLs ! RAWREAD gives these boys a Thumbs Up!
Recommended Video : GUNDA.
4. East India Comedy
East India Comedy comprises of comedians Sorabh Pant, Kunal Rao, Sapan Verma, Sahil Shah, Azeem Banatwalla and Atul Khatri. These guys serve up a delicious dose of not just comedy as in : stand-ups, stage shows and sketches. They also highlight larger social issues and recent news events. Take it as comedy that makes us laugh at ourselves while deftly putting across the larger social message. RAWREAD Recommends : The Bottmline Express series, featuring a News bulletin-esque weekly show.
5. Being Indian
Here's presenting to you all things DESI. This group of youths roam the streets asking people about their opinions on various topics some funny, some controversial. Giving you a insight into the psyche of the Urban Indian youth. Not just social experiments, the group also features sketches on Every Kind of Indian and regularly produce sketches that go Viral owing to a superactive team of social network junkies.
6. Shuddh Desi Endings
All right before you guys jump up and start calling it a COPY of HISHE (How It Should Have Ended), Let us clarify it is and isn't. Primarily because these guys have really taken traditional movie Spoofs to another level altogether. Combining quality animation with quirky content, the videos pack plenty of laughs to make you giggle all day. With its ears firmly to the ground, they incorporate recommendations from their fans as well as the most recent news and trends. RAWREAD recommends : Lingam Returns
7. HollyShit
HollyShit is a one man stand up comic act by Sikandar Sidhu. In their words "Reviewing" all this is SHIT about our good old Bollywood. With a quirky sense of humor and some really "Shitty" graphics (pun intended). This channel churns out episodes every Monday and has already published 22. Including "WTF Bollywood Lyrics", "WTF Physics" and many many more.
8. ||Superwoman||
Ok so we might just be going into NRI territory here. But Lilly Singh, a Canadian comedian with a strong Punjabi connection has become a YouTube sensation ever since she launched her channel in 2010. Known for her satirical takes on life's everyday struggles. She delivers a rip-roaring performance everytime with her antics, often dressing up like her parents and singing and dancing like nobody's watching. Well 4.7 million subscribers are watchin' bae !! Keep Rocking.
9. Jay Hind!
One of India's longest running Online TV shows with over 350 videos and numerous awards to its name. Starring popular TV actor Sumeet Raghavan This satirical series focuses mostly on recent news events, Bollywood etc with sketches, stand-up acts and song & dance routines. Poking fun at the establishment has never been this fun! Bringing back some nostalgic memories from our Childhood days. Jay Hind! Gets a big thumbs up for its longevity and creativity from the RAWREAD Team.
10. Trouble Seeker Team
They are into the business of hilarious and mind blowing street pranks, and they do their job brilliantly.